---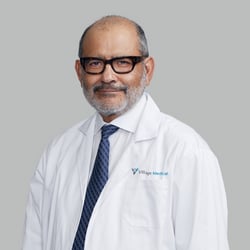 Cesar Rodarte, DO
1760 E. Pecos Rd. , Ste 102, Gilbert, AZ, 85295
About
Bio
Dr. Cesar Rodarte (pronounced "Ce-zar Ro-dar-tay") has been practicing since 1981, with a focus in family medicine. His areas of clinical interest include diabetes mellitus, hypertension, cardiac disorders, spine and joint disorders, and cancer. He is board-certified by the American College of Osteopathic Family Physicians, of which he is also a member, along with the American Osteopathic Association.
Dr. Rodarte majored in biology and minored in chemistry and the University of Texas in El Paso. He attended the College of Osteopathic Medicine and Surgery at Des Moines University, IA. He has been a clinical medical teacher at the American College of Osteopathic Medicine-Midwestern University and is a military veteran of the Army National Guard. In addition to English, he speaks fluent Spanish.
In his spare time, he enjoys golf, oil painting, traveling and spending time with his wife, two sons and two grandchildren.
...