---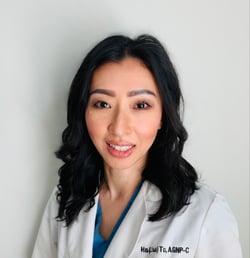 Lisa To, NP
4120 Southwest Fwy., Ste. 200, Houston, TX, 77027
About
Bio
An internal medicine nurse practitioner since 2016, Lisa To is devoted to the health and wellbeing of her patients. Lisa treats adults, performing adult physical exams, well woman exams and Medicare annual wellness visits. She has a clinical interest in preventive care and chronic conditions such as diabetes, thyroid dysfunction, asthma, COPD, hypertension, dyslipidemia, stroke prevention and recovery and coronary artery disease as well as skin conditions, minor injuries, respiratory illnesses and acute gastrointestinal conditions.
Lisa completed both her bachelor of science in nursing and her master's of science in nursing with a focus on primary care and adult gerontology at Texas Woman's University Institute of Health Sciences - Houston Center where she graduated with honors. Lisa is certified by the American Association of Nurse Practitioners (AANP) and is a member of Sigma Theta Tau Beta Beta Chapter of Houston.
Lisa completed her residency work at Houston Methodist and started working as a registered nurse in 2010 and worked as a float registered nurse in the post-anesthesia care unit. Upon graduation from TWU in 2016 as a nurse practitioner she started working at a private internal medicine clinic. She has also worked in skilled nursing facilities, in senior living, and with special needs patients. Lisa participates in an outreach program through The University of Texas Health Science Center's Stomp Out Stroke Festival. She has also participated in research studies related to Nonalcoholic Fatty Liver Disease (NASH), COVID antibody effectiveness for immunization, and biotechnology for detecting diabetic retinopathy in diabetic patients.
When she is not helping her patients, Lisa enjoys running marathons, reading, snowboarding and skiing, traveling and spending time with her husband and rescue dog, Astro. She is fluent in Vietnamese.
...