---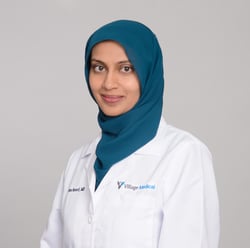 Salma Rawof, MD
3001 Simpson Rd., Suite 101, Kissimmee, FL, 34744
About
Bio
Dr. Salma Rawof is an experienced, board-certified Family Physician, passionate about helping patients live their best life. She was awarded Orlando's Top Doctor of the Year 2022. Her areas of clinical interest include care of the elderly, women's health, dermatology, mental health, and preventive medicine with a focus on lifestyle. Dr. Rawof treats patients of all ages, performing physical exams, well-woman exams, and Medicare annual wellness visits. 
 Dr. Rawof earned her undergraduate degree in integrative biology from the University of Toronto where she was an honor student, earning the Gordon Cressy Student Leadership Award for outstanding student leadership, service and commitment. She then graduated from the prestigious Michael G. DeGroote School of Medicine at McMaster University where she was recognized with the College of Family Physicians of Canada (CFPC) Leadership Award. Dr. Rawof completed her residency work at McMaster University where she specialized in family medicine with advanced training in emergency medicine. She is certified by the America Board of Family Medicine (ABFM).
 On a personal note, Dr. Rawof enjoys spending time with her beautiful family, practicing yoga, traveling, and reading. She is also a life coach who empowers people to achieve their highest potential.
...