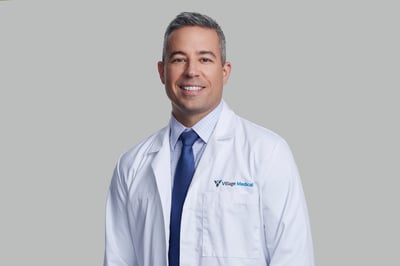 We know that physicians have many options when choosing where they want to practice primary care. James Kelly, M.D., one of our practicing physicians at Village Medical on East Houston Street in San Antonio, chose to practice with us because we offered him and his patients the three things they value most – personalized care, access and cost.
We believe personalized care is founded on building a strong relationship between the patient and physician. This strong relationship allows the patient to feel that their needs and concerns are being both heard and addressed by the provider.
Dr. Kelly agrees.
"As a primary care physician, I try to get to know my patients beyond just their medical conditions. I make it a point to find out about their family, where they live, what kind of work they do, what their interests are, and what is important to them. All these factors impact the overall health and well-being of my patients."
We personalize care to help patients with chronic conditions, such as diabetes and COPD, to best manage and live with their conditions. Based on the patient's needs, our physicians and advanced practice providers create Stay Well Care Plans which may include routine visits with their primary care provider, having the patient receive visits from the Care Management team for more support between provider visits or having them attend virtual education sessions to learn more about their condition.
The doctor will see you now
Accessing care when you're healthy and making a routine appointment is easy, but no one can schedule for an unexpected illness or injury. It is when you are sick with the flu or have just twisted your ankle jogging, when you need to see your primary care provider immediately and time is of the essence.
This mindset of quality over quantity that shows in so many ways at Village Medical was a key factor for Dr. Kelly in choosing to work here.
"We routinely schedule same day appointments and have the option of in-person and virtual visits. My patients appreciate the convenience and accessibility at Village Medical."
The cost of healthcare
As a value-based care organization, we will continue to focus on preventative medicine and working with patients to help them live their healthiest life. What does that mean for you? It means the focus is on the patient's health by offering more support for patients and coordinating the healthcare details that lead to better outcomes and a higher quality of life. It means that patients can see their primary care provider with greater frequency without it costing more.
One example of how coordinating details looks in action is seen in the pharmacy integrated services available at Village Medical at Walgreens locations. By having the primary care providers and pharmacists working together, patients can have their healthcare and pharmacy needs met all in one convenient location.
Dr. Kelly has found that having the communication with the pharmacists is a big help in getting his patients the medicines they need at a price they can afford.
"If a medication gets prescribed that is too expensive, we can easily walk next door if they are using our Walgreens pharmacy and find a suitable alternative. We are on a first name basis with all our pharmacists and routinely resolve problems by calling their back line or simply walking next door and having a conversation directly with them."
We were founded on the principle of changing primary care in the United States so that our country can be the global leader in health outcomes regardless of background and income, and we continue this journey by giving support and resources to primary care providers so they can in turn work with their patients to make sure they have all the care, support and resources they need to live their healthiest life in 2023 and beyond.
Written by Village Medical