Our services
Our experienced and compassionate team provides full-service primary care, including routine care, treatment for illness and injury, and management of chronic conditions. At Village Medical, we offer the right care, when and where you need it. You can be seen by a primary care provider in one of our clinics, via a virtual visit, or in your home.
We're here for you:
Virtual visits (video appointments from home)

Same-day appointments available

Comprehensive, team-based approach

Referrals to specialists

24/7 access to a member of our care team

Walk-ins welcome at our Village Medical at Walgreens locations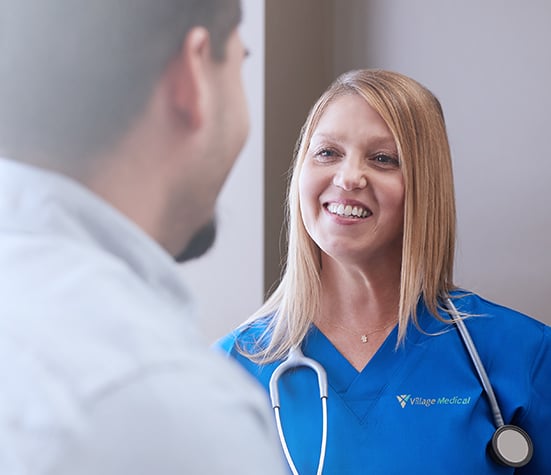 Wellness
Your primary care provider is your partner in your health – and not just when you're sick. From prevention to goal setting and education, having a long-term relationship with your physician is one of the most important things you can do for your health. Our services include annual wellness checkups, women's health services, weight loss counseling, vaccinations and smoking cessation programs, among other resources.
Chronic care
If you're living with a chronic condition, consistent and personalized care is essential. We can help manage a broad range of long-term diseases such as diabetes, kidney disease, hypertension, COPD (chronic obstructive pulmonary disease) and endocrine disorders. At Village Medical, we take a comprehensive approach, using education and lifestyle changes in conjunction with medications and other therapies – and ensure seamless information sharing between clinical staff, doctors and care managers – to help our patients live their healthiest lives.
Specialty care
Rare and chronic conditions require specific care and attention. Our highly trained staff are equipped to provide comprehensive care for certain conditions, and can provide referrals to specialists. Specialists have advanced education and training in specific areas of medicine, and can provide diagnostic tests and treatments in their areas of expertise.
Same-day appointments
No one schedules an illness or injury – so sometimes you need to see your doctor today. Whether flu season hits or you twist your ankle jogging, our clinics reserve same-day appointments for nonemergency illness and injury so you can see one of our doctors for streamlined, communicative care.
Clinic, in-home and virtual visits
We want to provide you with care wherever you are. We offer appointments in our many clinics, as well as at-home house calls and online virtual visits. No matter where you are, Village Medical ensures you're connected to care.
Diagnostic testing
Diagnostic tests help give you answers about your health. Our on-site facilities offer quick and easy access to a range of necessary tests, including bloodwork, urinalysis, bone density, spirometry and EKGs, among others – helping us diagnose and treat patients as quickly as possible.
Illness and injuries
We can diagnose and treat most common illnesses, conditions and minor injuries. From ear infections, asthma and digestive issues to sprains and strains – we're equipped to help you get back to feeling like yourself.
Specialized services
We offer a range of specialized services at select locations – including physical therapists to help with strength, mobility and injury, endocrinology to manage hormone-related conditions, podiatrists to take care of your feet, and board-certified estheticians who offer dermatological services.
The Village Medical Stay Active program serves as a way to participate in free physical therapy classes from home by following along to to our exercise video series.
Employment services
Pre-employment and annual screenings are an important part of many businesses. We provide drug and alcohol screenings (select locations), DOT and OSHA physicals, and more, to help ensure the safety and health of employees and customers.