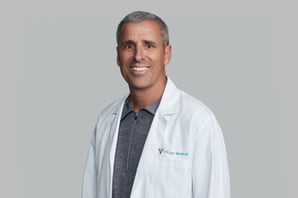 Starting Oct. 15, almost 20% of Americans will be faced with the task of selecting their 2024 Medicare health insurance benefits as part of Medicare's Annual Enrollment Period, also referred to as AEP. As a primary care doctor, I have received many questions over the years from patients regarding what health insurance plan they should choose. While I can't answer that specific question, I was able to give them some questions they should consider when selecting a plan. Here are the 5 questions I recommend everyone to consider when making your Medicare selection.
What kind of medical needs do I anticipate I will have in 2024?
Medicare is made up of four parts each providing you with different coverage.
Part A (hospital insurance)

Part B (medical insurance)

Part C (

Medicare Advantage

)

Part D (drug coverage)
This is where having a conversation with your primary care doctor and making sure you have a Stay Well Care Plan in place is so important. With the plan, you are able to see what tests, how often you will need to see your doctor, and other important factors that will help you determine your upcoming medical needs.
Are my doctors covered by this plan?
Original Medicare (Part A/B) allows you to visit any doctor in the United States who accepts Medicare. If you choose a Medicare Advantage plan, you will need to select from a specific network of primary care doctors, specialists and hospitals. However, you can still see an out-of-network doctor for covered services, usually for a higher out-of-pocket cost, if the doctor agrees to treat you and accepts Medicare. It is also important to know, some plans will attribute Medicare patients to advanced practice providers (APPs).
Check with your doctors to make sure they accept Medicare and if they are included in the network of any Medicare Advantage plans you are considering.
Does the prescription drug coverage meet my needs?
Whether you choose a Medicare Part D or Medicare Advantage plan, it is important to look at the list of prescription drugs covered and make sure it includes your current medications. If you have any questions about your medications, talk to your primary care doctor, advanced practice provider, or pharmacist.
You will also want to make sure your local pharmacies can fill your prescription and if you can get prescriptions sent to you by mail.
What are my out-of-pocket costs?
Out-of-pocket expenses are the costs you are responsible for paying after Medicare has paid their share. This can include your monthly premium, deductibles, coinsurance (the percentage of costs of a covered health care service you pay after meeting your deductible) and copayments.
It is critical to review this information before selecting a plan, especially if you are on a fixed income. Please note that Original Medicare does not have an out-of-pocket maximum while Medicare Advantage plans generally have a $8,300 out-of-pocket maximum, though this may vary by plan so be sure to ask.
What other benefits are included?
Take the time to review the different benefits available in each plan you are considering. Maybe you want a plan that covers vision or dental exams. Or perhaps it is important for you to have hearing exams or a fitness program as part of the coverage. Whatever it is, make sure to include it in your decision-making process.
This is a wonderful opportunity to review your insurance options and to have a conversation with your primary care doctor about your health and medical expectations for the upcoming year. Click here or more information on Medicare's Annual Enrollment Period.