Memorial Day weekend is in a few days, and it marks the unofficial start to summer. It is a weekend full of celebrations, barbecues and get-togethers with family and friends, but also the time when we as Americans pause to remember and honor the men and women who died while serving in the U.S. military. It is a time to reflect on the American patriots who made the ultimate sacrifice protecting and defending the freedoms our nation enjoys.
Memorial Day was originally known as Decoration Day and traces back to the late 1860's following the Civil War. It began when towns and cities across the country would hold tributes on May 30 to the fallen soldiers by decorating their graves with flowers. Today, there are several formal rituals still in place, such as hanging the American flag at half-staff until noon on Memorial Day, then raising it to the top of the staff, and a pause at 3 p.m. local time for a National Moment of Remembrance.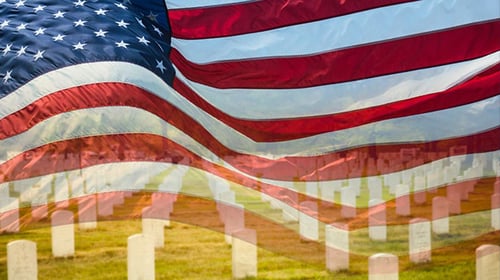 Ways to Honor
There are many ways to observe Memorial Day. Some Americans visit cemeteries and memorials or wear a red poppy in remembrance of those who fell in war – a tradition that came from a poem written during WW1. In 2011, a new way to honor the fallen – Carry the Load – was started by two Veteran U.S. Navy SEALs, Clint Bruce and Stephen Holley. Carry The Load's Memorial May campaign takes place the entire month of May to raise awareness about the true meaning and importance of Memorial Day and to provide active ways to connect Americans to the sacrifices made by our military, veterans, first responders, and their families.
As the sister of a US Marine, Cris Lopez, senior vice president of diversity, equity, inclusion, and human resources operations at VillageMD®, has always supported our military and has a special appreciation for the dedication and sacrifice of those who serve.
"As a family, we've participated in Carry the Load as our way to honor the lives of those who died while serving," said Lopez. "By reading the stories of service members along the trail, hearing from their family and friends, we connect to and learn about each individual. It helps us all gain a deeper understanding of the importance and true purpose of Memorial Day, to ensure we not only remember and celebrate the lives of those we've lost, but to also support and embrace the family and friends left behind."
As part of the May Memorial, Carry the Load has 5 relay teams who walk 48 states – 20,000 miles – in 32 days, connecting all Americans across the country with all routes ending in Dallas, Texas on Memorial Day. Cydya Thomas, a senior manager on Lopez's team who lives in Dallas, has participated in this event over the years and feels it has brought her a deeper level of appreciation and pride in our country.
"Carry the Load is such an amazing event and a way to really understand the true meaning of Memorial Day," she said. "Especially knowing that I am carrying the load and honoring all of our fallen heroes and sheroes that gave their lives for our nation."
On Memorial Day, and every day, the best way we can honor those who made the ultimate sacrifice for us is by living a full, meaningful life and never forgetting them.