Everyone deserves high-quality, personalized primary care. It can be difficult to stay as healthy as possible without it. That is one of the reasons we believe in delivering primary care through a value-based care model, which emphasizes health care over sick care.
Here's what this means for you. Rather than just providing care when you're sick, value-based care is designed to help you stay healthy through preventive care and lifestyle guidance so you can live your best life. At Village Medical, we know that managing your health on top of everything else in your life can be a lot. That's why we're changing health care to help make it easier for you to get well – and stay well.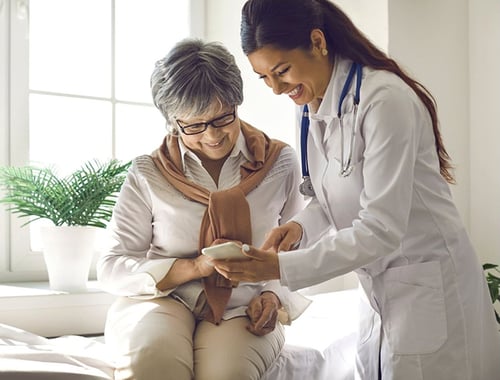 The Importance of Value-Based Care
Simply put, value-based care focuses on improving the quality of care and long-term outcomes for patients. Through preventive services and meaningful coordination, the way a patient receives care changes from reactive to proactive. Michele Roberts-Perkins, a nurse practitioner at Village Medical in Orlando, Florida, enjoys working in a value-based practice where she can take the time to focus on her patients' care.
"With my patients, I explain exactly what a condition means for them as an individual and go over how they're going to manage it at home," she said. "I've had patients with hypertension bring in their blood pressure monitors so I can show them the proper way to measure their blood pressure. Or I'll work with my patients who have diabetes and teach them how to monitor their blood sugar."
Through our Stay Well Care Plan, Village Medical patients get well-rounded care personalized to their specific needs. Through a hands-on approach, you can feel empowered and drive change in your overall health, leaving your appointment not only with your immediate needs met but a plan to meet your long-term needs as well.
Quality Time with Your Care Team
The power and importance of spending an extra minute or two with a patient and asking how things are going is underestimated. Patients are tired of going to different primary care providers and specialists and not getting the results, time, or understanding they want and need. At Village Medical, our doctors lead a whole care team, which means you get more time, more attention, and more help in coordinating your healthcare. They'll even work closely with your pharmacists to manage your medications.
By providing our doctors and advanced practice providers (APPs)* with the opportunity to spend more quality time with you, you can build a trusting relationship with your care team and have a better chance to make breakthroughs in your health.
"Our practice staff makes sure we have all the information before a visit – when we last saw the patient, when we need to see them next, and what their goals are," said Dr. Emily Gupton, a doctor in Murray, Kentucky. "Patients usually come in with a specific health concern and in our value-based care model, we're not only able to give them the care they need in the moment, but we go beyond the concern of the day and look at ways to help prevent poor health in the future."
Focus on Preventive Care
Value-based care focuses its attention on preventing health problems before they begin, which is why illnesses and diseases can be more easily identified and managed early on before they turn into larger problems. Your Stay Well Care Plan will help keep you healthy and away from emergency rooms and hospitals, whenever possible. Everything is based on best practices and preventive services, with an emphasis on annual wellness visits and all appropriate health care screenings.
"We want to prevent a heart attack. We want to prevent a stroke. We want to prevent serious medical conditions," said Dr. Louis Gilbert, who practices in Pasadena and Friendswood, Texas. "And if patients do develop these illnesses, we want to do our best to help manage them and keep our patients living their lives and not spending time in the hospital."
It's the New Way to Well
Doctors and APPs make hundreds of decisions daily, and those who work in value-based care start with a simple question: "Will this care improve my patient's quality of life or their long-term outcomes?" Our team is well-equipped to deliver the care you need when you need it.
Trust is at the foundation of our value-based care approach. You deserve to feel comfortable enough to speak openly about physical, emotional, and even spiritual health concerns. That's what it means to provide high-quality, value-based care for the whole patient. We're here to make primary care more caring. It's the New Way to Well.
*An advanced practice provider is defined as a nurse practitioner or physician assistant.
To learn more about Village Medical, find a provider near you, or schedule an appointment, visit our website.