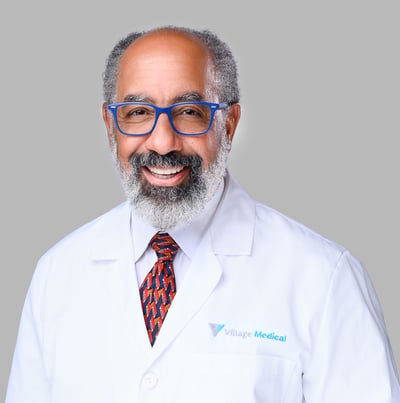 Introducing our new blog, Journey to Well, and what you can expect to learn from it.
Life can be difficult and different stressors in our lives can affect our overall health and well-being. Primary care doctors are equipped to treat the mental health concerns of their patients but over half (54.7%) of adults with a mental illness do not receive treatment. That's why we have teams with a variety of experts to address mental health concerns. Dr. Ramon Reyes and his integrated behavioral health team in San Antonio, TX, shared their approach to treating mental health in the primary care setting.
How do primary care providers address mental health concerns?
Most mental health concerns first present in primary care, placing primary care doctors in a critical role to address these concerns. Whether you are dealing with the daily stressors of life, grieving a loss of a loved one, trying to quit a bad habit, managing a chronic condition, struggling with depression, or just going through a hard time, having a team of primary care and mental health professionals working together with you will help you get the support you need.
Dr. Ramon Reyes explained that primary care doctors can help patients with mental health conditions stay out of emergency care settings, "Here, we provide patients with resources such as crisis intervention and family support, so they don't need to visit the emergency room."
It is important to surround patients with integrated teams to address mental health and by incorporating this approach into the primary care experience access to mental health care is improved and the stigma is reduced.
"The mental health industry often focuses on specialty care for mental health, but many patients can benefit most from integrated behavioral care," said Jeffery Locke, Licensed Clinical Social Worker. "For example, if someone is struggling with a transition in life, they can talk to their primary care doctor to see if they have any advice or resources available on how to cope."
How do you make patients comfortable when talking about mental health?
Patients struggling with their mental health are not alone and do not have to suffer alone.
"We don't see our patients as primary care patients and separately as mental health patients – everyone has to contend with behavioral health, from the decisions we make around stress to what we eat," said Locke.
It is important to know that it's okay to not be okay, and that your integrated behavior health team has specialized training in appreciating life's difficulties and how they impact our health. Some team members take the role of being a trusted listener. Others are a touchpoint for coordinating mental health specialists. No matter what role in patient care, one thing never changes – your care team is in your corner.
How do you support your patients' mental health?
Often giving patients an accurate diagnosis is the first step in supporting their mental health. Behavioral health teams identify certain thoughts, behaviors, and symptoms that may suggest further treatment. There are many signs to talk through such as excessive worrying or fear, feeling excessively sad or low, or having problems concentrating and learning.
"We want to find the root cause or the underlying issues a patient has," said Dr. Reyes. "Each condition has specific symptoms and primary care doctors are trained to help identify them to provide the best course of care. Once patients have an accurate diagnosis, we develop a treatment plan."
Each patient requires an individualized approach. "Not every care plan involves medications. We try to get an understanding of what each patient prefers and feels most comfortable with," explained Marisol Rodriguez, Licensed Master Social Worker.
"Many types of care providers can help patients improve their mental health, though we don't treat specialists as the only line of defense," said Hakim El-Amin, Licensed Master Social Worker. Through referrals, primary care providers can help connect our patients with the professionals right for them. Everyone deserves someone they can trust to address their mental health needs."