Women in medicine have come a long way. In 1849, Elizabeth Blackwell became the first woman to earn an MD degree. Now, in the United States, of the over 118,000 active physicians specializing in family medicine or general practice, more than 40 percent are women. This March, we are putting a special focus on the accomplishments of women at Village during Women's History Month.
In hopes of inspiring the next generation of women in healthcare, we asked our own medical trailblazers, Drs. Karen Wetherell and Veronica Angulo Diaz, what being a woman in medicine means to them.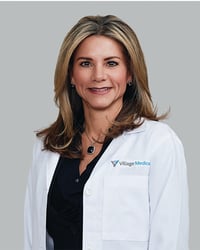 Dr.Karen Wetherell
"We have the opportunity to break down barriers while practicing medicine," said Dr. Karen Wetherell, in Scottsdale, AZ. "Everyone deserves to have access to excellent healthcare as well as a provider they feel comfortable with. We are doing what we do because we love to take care of others and we want to see our patients achieve greater health so they can live their best life."
To young women interested in practicing medicine, Dr. Wetherell's advice is simple: "Absolutely go for it! There is nothing you can't achieve if you set your mind to it. Find opportunities to get into the medical field, including shadowing a practicing physician or seeking volunteer opportunities in the medical field. Nothing should stop you from pursuing this dream."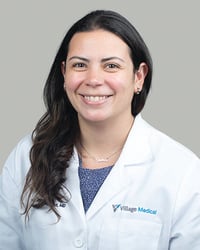 Dr.Veronica Angulo Diaz
For Dr. Veronica Angulo Diaz, who practices in Tampa, FL, becoming a doctor was due in part to following her early love of science, particularly biology. She joined Village Medical so she could turn her interest in medicine into developing long-term relationships with her patients and providing them with the best care possible.
"My favorite part of my job is getting to know my patients and creating strong, trusting relationships with them," says Dr. Angulo Diaz. "It is so important to understand their culture, community, and lifestyle because all of those things directly impact their health. It's an amazing thing to see when a recommendation I make changes the life of a patient."
Both Dr. Wetherell and Dr. Diaz agree that it is important to have women in the field so patients can feel comfortable seeing the provider they want.
"As the number of women providers continues to grow throughout the U.S., patients have the opportunity of choice, and through this freedom comes a chance to feel safe and heard by their provider," said Dr. Diaz.
This month and every month, we proudly celebrate our women physicians, advanced practice providers, nurses, medical assistants, and support staff who positively impact the lives of our patients and help foster a healthier community. We understand that no two people experience life the same way. This makes it especially important to celebrate the diversity at Village – including race, religion, gender, and more. While we work to provide a new way to well, we are grateful for the perspective women providers bring to our teams.